Freedom New Hampshire Announces Widespread Support for Transgender Nondiscrimination Bill
Advocates note momentum behind efforts to pass historic legislation
CONCORD, N.H. — A bipartisan coalition announced support today for HB 1319, a bill to provide protections for transgender Granite Staters in employment, access to housing, and public spaces like restaurants, shops, and government buildings. The House Judiciary Committee has scheduled a hearing date for HB 1319 on January 31, 2018 at 1 PM, signaling strong momentum behind this landmark legislation.
Freedom New Hampshire is a coalition of businesses large and small, law enforcement, anti-violence advocates, faith leaders, and transgender residents and their families working to introduce Granite Staters to their transgender neighbors and to make the case for equal opportunity and freedom from discrimination. Advocates gathered at the State House Legislative Office Building for a news conference today, January 17. Live video feed can be viewed here.
"We've always valued freedom and opportunity here in New Hampshire," said the bill's lead sponsor Representative Ed Butler (D-Hart's Location). "HB 1319 isn't about creating new or special protections for anyone – it's simply about updating our state's laws so that our transgender friends and loved ones have the same protections as everyone else. Our state is at its strongest when we're all free to work hard, earn a decent living, and go about our lives without fear of discrimination. That's all HB 1319 is about."
"The Business and Industry Association is constantly seeking new ways to make New Hampshire more competitive and make it the best place in the nation to live, work, and raise a family. In our view, transgender freedom is an issue of economic competitiveness," said David Juvet, Senior Vice President of Public Policy for the New Hampshire Business and Industry Association. "New Hampshire has a significant workforce shortage. We believe that our legislature should do all it can to position the state as being welcome to all, including those who are transgender."
"At the New Hampshire Women's Foundation we take women's safety and privacy very seriously. Nothing in HB 1319 would change the fact that it is already illegal to threaten or assault a woman in a public bathroom," said Sarah Mattson Dustin, Director of Policy at the New Hampshire Women's Foundation. "Transgender people face disproportionate rates of discrimination, harassment, and violence in all areas of their lives. Transgender women are women, and like all women, we want them to be safe, to have equal opportunity, and to be treated fairly. That is what HB 1319 offers."
"I've worked for the New Hampshire State Police for 27 years, and I enlisted in the Air Force at the age of 17," said Jessica MacFadzen, a transgender New Hampshire State Police dispatcher who transitioned on the job. "I've been proud to serve my country and my community, and I'm so proud that the New Hampshire Association of Chiefs of Police has fully endorsed HB 1319 to protect transgender Granite Staters like me from discrimination."
HB 1319 is sponsored by Representative Ed Butler (D-Hart's Location) and cosponsored by 14 of his fellow Representatives and Senators. Rep. Butler is joined by 12 Republican cosponsors, demonstrating strong bipartisan support for this measure. This same legislation (then HB 478) passed the House Health and Human Services Committee in 2017 by an overwhelming margin of 15-2. It was then tabled by House leadership before a full floor vote took place.
The upcoming Judiciary Committee hearing will provide an opportunity for a diverse group of advocates to share their support for nondiscrimination protections. HB 1319 has been endorsed by some of New Hampshire's leading business, public safety and women's rights groups, most notably the 
Business and Industry Association
, the New Hampshire Women's Foundation, the 
New Hampshire Coalition Against Domestic and Sexual Violence
, and the New Hampshire Association of Chiefs of Police.
Representatives Ed Butler, Renny Cushing, and Erin Hennessy joined advocates with Freedom New Hampshire at the Legislative Office Building on January 17, 2018.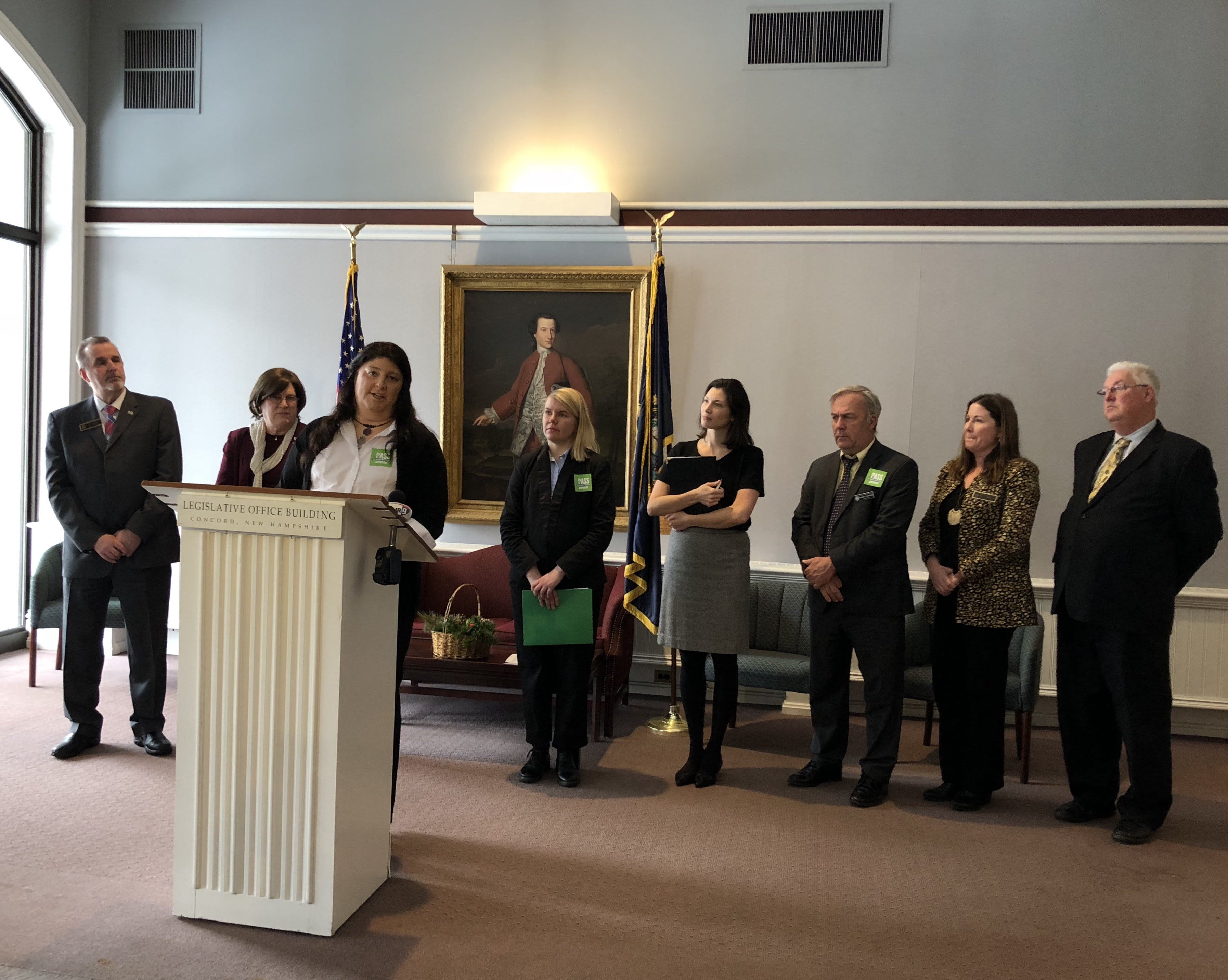 Jess MacFadzen, a New Hampshire State Police dispatcher and Air Force Veteran, shared her story as a transgender woman in New Hampshire.